HELP CHOOSING FILTERS
Click here
if you need help determining what filters to order.
SECURITY
No one is more concerned about the security of your personal information than we are. This is why WaterFiltersOnline.com has implemented the highest levels of security available today for secure commerce transactions. Your credit card information is encrypted through a secure socket layer server (SSL) so that it cannot be read or copied as the information travels over the Internet. Our web site is secured using a Thawte Digital Certificate. This ensures that all information you send to us via the World Wide Web will be encrypted.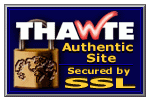 PRIVACY STATEMENT
At WaterFiltersOnline.com your privacy is one of our most important concerns. For this reason, we have a strict, straightforward privacy policy. We will not sell or provide your information to third parties for advertising or solicitation. You can rest assured that your personal information is entirely safe with us at WaterFiltersOnline.com. Information is only shared with business partners, such as UPS, charge card processors or suppliers assisting in the fulfillment of your order. If you have any questions about our privacy policy, please E-mail us at
CustomerService@WaterFiltersOnline.com.
CONTACT US
Please feel free to contact us with questions about your order via email at
CustomerService@WaterFiltersOnline.com
or fax your order to 260-358-9925 (fax line only). Our Customer Service Department will reply promptly. If you wish to mail your order, mail to:
WaterFiltersOnline.com LLC
1124 E. Franklin, Street
Huntington, IN 46750 USA
METHODS OF PAYMENT
We accept VISA, Discover, Amex and MasterCard. If you prefer to pay by check (for mail in orders only), your order will be processed once your check has been received and has cleared our bank. We do not send shipments C.O.D.
SHIPPING
Orders received by 2PM EST usually ship the same day on weekdays. All orders in the U.S. contiguous 48 states are shipped USPS (United States Postal Service) or UPS (United Parcel Service) based on then current best delivery information. Shipments to a P.O. Box will ship via USPS. Non continental U.S. (contiguous 48 states) orders may be shipped via an alternate carrier such as USPS and then transferred to a local carrier at the delivery destination.
Click here
to see approximate shipping time from our
warehouse
to you.
SHIPPING TO NON-CONTINENTAL U.S. (contiguous 48 states) DESTINATIONS
Your checkout screen will show the USA 48 states shipping fee. Shipping fees to Non-Continental U.S. (contiguous 48 states) destinations will be billed the actual fee, once calculated. We will send an email with the shipping fees and wait for your approval prior to processing the order. Destination taxes are the sole responsibility of the customer and are not paid by WaterFiltersOnline.com, LLC.
RETURNING CUSTOMER EXPRESS RE-ORDERS
Returning customers can recall their previously ordered items simply by
Clicking Here
. If your order does not show up it is probably due to a "cookie" error within your browser. If so, you will need to look up your item and place a new order for it.
RETURNS & EXCHANGES
If you are not satisfied with your purchase and wish to make an exchange or return, you will need to Email
CustomerService@WaterFiltersOnline.com
to acquire a Return of Merchandise Authorization Number (RMA). Merchandise returned without an RMA will be not be accepted and returned to the sender. We are happy to exchange the product(s) or credit the purchaser's credit card for the merchandise received within 30 days of the customer's receipt of the merchandise. We are not able to accept return or exchange requests after 30 days of the customer's receipt of the merchandise.
Returns must include the original invoice
. Returns based on anything other than defective merchandise will be subject to the original shipping and handling costs. Orders that received free shipping will also be subject to a $9.99 fee or the actual shipping charge, whichever is greater, in order to cover the shipping and handling charges. It is the responsibility of the purchaser to pay for all shipping on any returns or exchanges. Restocking, repair or replacement fees may apply.
All returns must be unused and in unopened original packaging and include all items and manualsoriginally shipped
. For all returns be sure to make a note on the receipt as to what you wish shipped in exchange for the returned item(s).
Returns Ship To:
WaterFiltersOnline.com LLC
1124 E. Franklin, Street
Huntington, IN 46750 USA
SALES TAX
State Sales tax will be charged on all orders delivered within the state of Indiana. There is no sales tax on orders delivered outside of the State of Indiana.
COPYRIGHT
WaterFiltersOnline.com is a trademark of WaterFiltersOnline.com, LLC. All other products mentioned are registered trademarks or trademarks of their respective companies. Proprietary contents contained herein are the sole property of WaterFiltersOnline.com, LLC and may not be reprinted, reproduced or transmitted in any form without written permission. WaterFiltersOnline.com, LLC grants permission to electronically copy and to print hard copy portions of this site for the sole purpose of placing an order with or through WaterFiltersOnline.com, or using this site as a shopping resource. Any other use of materials on this site, including reproduction for purposes other than those noted above, modification, distribution, or republication, without prior written permission from WaterFiltersOnline.com, LLC is strictly prohibited. Copyright © 1999 WaterFiltersOnline.com, LLC, Huntington, Indiana, USA. All rights reserved.
PRODUCT SUITABILITY
All information presented is based on data believed to be reliable. It is offered for evaluation and comparison, but is not to be considered a warranty of any kind. Seller makes no warranty, expressed or implied, concerning any product, the merchantability or fitness thereof. Seller's maximum obligation under this warranty shall be limited to a refund of purchase price or replacement of product proven defective. WaterFiltersOnline.com shall in no event be responsible for consequential damages of any nature or amount. Determination of suitability of product for uses and applications contemplated by purchaser shall be the sole responsibility of purchaser.
COMPATIBLE REPLACEMENT WATER FILTERS, REVERSE OSMOSIS MEMBRANES AND WATER FILTRATION PARTS
The term "Compatible" means that the replacement item may be used in place of the original OEM item. The use of the term "COMPATIBLE" is to designate that an item will fit and work in place of the original OEM part. It is not intended to indicate that it is a "COMPARABLE" replacement. "Comparable" would indicate that a comparison was made in performance to another product. We do not make comparisons to other products, nor do we make specific performance claims of any item on this web site unless they are so noted.
AGREEMENT
Acceptance of delivery of any product constitutes purchaser's acceptance of this agreement and subjects purchaser to its contents. Any purchaser of merchandise from WaterFiltersOnline.com pursuant to this Internet advertisement agrees that any and all claims and controversies regarding the sale of merchandise to said purchaser(s) shall be subject solely to the jurisdiction of the Court of the State of Indiana.