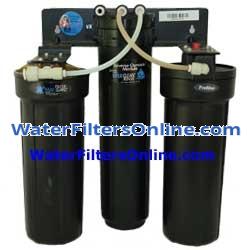 Kinetico RO Membrane Replacement
Replace your Kinetico ®* 516, 517, 517N, 518, 519, 526, 527, 528, 529, 538 & 539 reverse osmosis membrane. Choose any one of the three listed below. The flow control is built right into the housing that encapsulates the membrane, so order any size of membrane GPD you wish. This is a great time to upgrade your system's capacity. You will need to order the membrane conversion kit only the first time you change the membrane.
This system uses 1/4" tube and 1/4" MNPT John Guest quick connectors. The ports are 1/4" FNPT. See how to use the John Guest quick connectors on this system and replacement membrane.